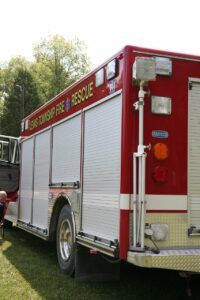 Motorcyclists must correct for a lot of the mistakes careless drivers end up making around them. Sadly, riders aren't always given the time and room to avoid a driver who has lost control. A vehicle can suddenly wind up in the path of a motorcycle and cause an unavoidable collision.
Motorcyclists travel with very little protection from an impact. The consequences of any crash can lead to severe injuries and in the most tragic cases, claim lives.
Two People Tragically Killed in Motorcycle Collision in Muhlenberg County
Two people on a motorcycle lost their lives in Muhlenberg County following a collision with a pickup truck Tuesday afternoon. WKBO-TV reports the accident occurred along KY 175 around 4:30 p.m. on October 19, 2021.
Kentucky State Police say a man and a woman were on a Harley Davidson motorcycle traveling north when the driver of a southbound Chevy Silverado truck crossed the centerline into their path. The resulting head-on collision killed the 60-year-old man from Greenville on the motorcycle. His 52-year-old female passenger was taken to Muhlenberg County Hospital where she later died from her injuries.
The driver of the pickup, a 59-year-old man from Graham, was not injured. The investigation into what led to the accident continues.
Earning Support for Families After a Kentucky Motorcycle Accident
Families can learn of the news of a tragic accident and be allowed little time to grieve before the costs of such a devastating incident come due. Family members of motorcycle accident victims can file a wrongful death lawsuit to protect themselves and other close relatives from financial harm in the wake of a tragedy.
This civil claim would seek to earn financial help with the costs of a memorial service and funeral and any estate settlement costs. A wrongful death lawsuit also requests money to pay for ambulance fees and any hospital bills accumulated before a loved one passed on.
This lawsuit could also be used to secure the family's financial future when they'll have to rebuild their lives without the guidance and financial support a loved one can no longer provide.
Contact a Motorcycle Accident Lawyer Serving Muhlenberg County
Talk to a Kentucky Motorcycle Accident Lawyer you can trust to be on your family's side through the most difficult of times. Insurance companies can take the opportunity to limit the support they provide victimized families. You need a legal professional on your side to fight for your family's fair compensation.
The attorneys at Kaufman &  Stigger, PLLC, have the knowledge and a combined 100 years of experience in helping clients get the compensation they'll need to rebuild their lives. To discuss your case, contact Kaufman & Stigger, PLLC today, by clicking here to contact them online. If you hire us, there is no fee charged until we win your family's case.