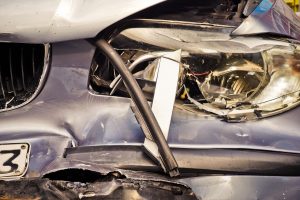 Morning traffic can back up on popular routes through Lexington. School traffic can further increase traffic levels on thoroughfares like Man o' War Boulevard. Parents and students rushing to pull onto school grounds can merge with other commuters to make for a hazardous trip for everyone.
A driver looking at a cellphone or losing focus for any other reason can miss someone stopping in front of them, or end up in the path of another car to cause a frightening impact.
Four Vehicle Collision on Man o' War Blvd in Lexington
A multi-vehicle collision caused at least one injury in west Lexington Tuesday morning. LEX18-TV reports the accident occurred sometime before 8:30 a.m. along Man o' War Boulevard near Dunbar High School on December 7, 2021.
Lexington Police responded to the scene between Beaumont Centre Lane and Fort Harrods Drive. Wrecked vehicles were reported in the outer lane of Man o' War. Officials say four vehicles were involved in the collision.
The accident was listed as an injury incident, but the number of victims and the severity of their injuries has not been reported. Lexington police continue to investigate the circumstances surrounding this morning's accident.
Seeking Assistance for Lexington Injury Victims
The Victims of Lexington accidents could face a long and painful recovery. That recovery can also serve as a massive financial burden on the victim and the victim's family.
Kentucky provides for families in these situations. Victims or close relatives are allowed to proceed with a claim for damages leveled against at-fault drivers and their insurance companies. This claim can seek full reimbursement for doctor bills and hospital stays. It's also designed to secure assistance with normal monthly bills while a victim may be missing days or weeks at work.
Talk with a Local Attorney Serving Victims in Lexington
Accident victims often wonder if they need an attorney, and if you are seriously hurt the answer is almost always yes. Agents for insurance companies have years of experience and are good at their job, which is to pay you as little as possible or nothing at all for your injury. You need someone just as experienced to safeguard your interests.
Talk to a Lexington Car Accident Lawyer you can trust to be on your side and fight for your fair compensation. The attorneys at Kaufman & Stigger, PLLC, utilize a combined 100 years of experience to help clients get the support they'll need to make a full recovery. To discuss your case in a free consultation, contact Kaufman & Stigger, PLLC today, by clicking here.