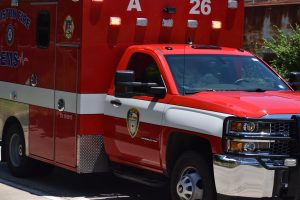 Pedestrians in busier sections of Boone County often aren't provided with safe paths to get where they need to be. They can be presented with few options to travel even just a short distance safely on foot.
Pedestrians are the least protected of anyone who uses local streets and roads and yet they get can get the least consideration from careless drivers as they travel. Even the slightest bit of care shown to others by drivers can make for safer trips for everyone and prevent some of the pedestrian tragedies that happen each year in Kentucky.
Two Pedestrians Struck On State Route 18 in Florence
A woman was tragically killed after two people were struck by a vehicle on KY 18/Burlington Pike Highway Monday night in central Boone County. FOX19-TV reported the accident happened just before 7 p.m. near the intersection of Woodspoint Drive on December 28, 2020.
Florence officers say two people were crossing the highway when a vehicle traveling west struck them both. A 56-year-old woman from Newport was transported to St. Elizabeth Hospital Florence where she was pronounced dead. The other pedestrian was flown to the University of Cincinnati Medical Center. The victim was said to be in stable condition.
Police continue to investigate what led to the crash.
Support for Pedestrian Accident Victims in Florence
A tragic pedestrian collision will leave family and friends of the victim overwhelmed. Sometimes close relatives can be too distraught to cope with some of the difficulties that can target victims and their families after a heartbreaking accident.
An at-fault driver's insurance company can depend on the confusion during this time to try to get victims and their families to accept less than what's fair for the extreme emotional and financial difficulties they may be experiencing.
For deceased victims, a family may file a wrongful death claim against the responsible driver's insurance company. This civil claim can help lay out exactly what a family needs to be able to get back on their feet and be protected from financial ruin in the years to come. An award of compensation can help pay hospital expenses, funeral costs, and account for the loss of emotional and financial support the family will have to deal with over their lifetimes.
Surviving victims can also seek to protect their health and finances by filing a claim for damages against an insurance company. An attorney working on their behalf can make sure the absolute best medical care gets paid for by those responsible for the accident. Money can also be granted to replace lost paychecks while the victim misses work while undergoing treatment.
Contact a Kentucky Pedestrian Accident Lawyer
If you or a family member has been the victim of a careless driver in Kentucky contact a local attorney to protect your rights. Insurance agents may only offer you the most basic amount of coverage to pay for your current bills, but not consider every cost you and your family may continue to face in the future. Don't let them trick you into accepting an unfair offer.
The attorneys at Kaufman &  Stigger, PLLC, have the necessary knowledge and a combined 100 years' experience in helping clients get the compensation they'll need to fully recover. To discuss your case free of charge contact Kaufman & Stigger, PLLC today.