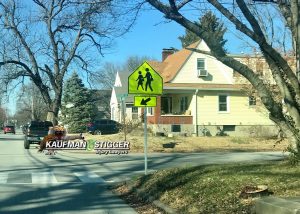 Pedestrians have the right to a safe journey across Louisville anytime they travel. They should be protected on sidewalks and when they have to cross traffic they should be able to do so in well-designed and safe intersections.
Unfortunately, crosswalks aren't always set-up to offer pedestrians a safe and easy way to cross the street.  Distracted drivers only add to the dangers for pedestrians. They can look down at a phone or over at a radio and carelessly miss a pedestrian ahead just trying to get across the road. These mistakes can cause a tragic accident that could have been avoided with a little extra care and caution.
Man in Wheelchair Killed in Louisville Hit-and-Run Crash
A man tragically lost his life after being struck by a hit-and-run motorist on Wednesday night in Louisville. WDRB-TV reported the accident happened at the intersection of Poplar Level and Nightingale Roads around 11:30 p.m. on November 11, 2020.
Louisville Metro Police determined that the 45-year-old man was traveling across the intersection in a wheelchair when an unknown driver traveling north on Poplar Level Road struck him. The victim did not survive.
Investigators say the driver did not remain on the scene. Anyone with information about the hit-and-run driver or the car involved is asked to call the Louisville Metro Police.
Support for Families After a Pedestrian Accident
Tragic pedestrian accidents not only claim lives, they also change the family left behind forever. A loved one has been lost to the carelessness of a driver and then to make the tragedy worse the driver decided to speed away to avoid paying the consequences of his or her actions.
Nothing can replace a beloved member of a family, but those left behind can look to protect the remaining close relatives by holding the at-fault driver and his or her insurance company accountable.
If there's good news and a hit-and-run driver is found and charged, families can move forward with a wrongful death claim. This civil lawsuit seeks to recover compensation for the family's financial and emotional losses after an accident.
A claim can insist on reimbursement for hospital bills and funeral costs the family has absorbed. An award can also provide for the future of the family. Compensation can factor in the financial support victims would have provided their families had they survived. Emotional support the deceased would have provided a spouse and children over their lives can also be considered in an award.
In the event a hit-and-run driver is never identified, families can still hope to receive compensation for their loss if the victim was covered by his or her own car insurance policy or a family member's policy. Support for relatives could come from the "uninsured drivers" segment of the insurance.
Contact a Louisville Wrongful Death Attorney
If you have lost a loved one to a careless driver's mistake, make sure you know all of your legal options. After a tragic loss, the well-being of the family left behind becomes the most important concern. Our wrongful death attorneys can help you hold an at-fault driver and insurance agents accountable for hardships now and those expected in the years to come.
Talk to a Louisville Wrongful Death Attorney you can trust to be on your side and fight for your fair compensation. The attorneys at Kaufman &  Stigger, PLLC, have that knowledge and a combined 100 years' experience in helping clients get the compensation the family will need to protect their future. To discuss your case, Kaufman & Stigger, PLLC today, or click here to contact them online.