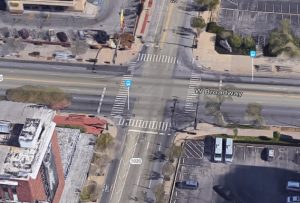 Pedestrians are at risk anytime they are forced to cross the street and trust distracted and careless drivers to be paying attention to the road in front of them. Many drivers already show shockingly little caution for vulnerable pedestrians.
Accidents will happen, but drivers can cross a line when they strike someone on foot and then take off to escape the repercussions of what they've done. These hit-and-run drivers can devastate victims and their family and friends when they make a senseless choice to speed away.
Pedestrian Killed in Louisville Hit-And-Run
A pedestrian was tragically struck and killed in southern Louisville early Sunday morning. The Courier-Journal reported the hit-and-run accident happened in the Okolona neighborhood in the 2900 block of Fern Valley Road around 12:45 a.m. on November 15, 2020.
Louisville Metro Police say three people were crossing the road when an eastbound pickup truck hit a 32-year-old woman traveling with the group. She was pronounced dead at the scene.
Investigators say the truck's driver kept going and didn't return to the accident scene. If anyone has any information on that driver or the truck involved please contact the LMPD.
Support for Louisville Families after a Hit-And-Run
A hit-and-run driver can rob victims and their families of any chance of finding justice and some closure. After a tragic pedestrian accident, the loved ones left behind should be allowed time to cope with the devastating news. Yet, families will often face some tough decisions in the aftermath of a fatal collision.
The family may be responsible for incredibly expensive ambulance and hospital fees, funeral costs, and be left without the financial support the victim provided through their employment.
They can demand financial compensation to help with these overwhelming costs from insurance companies in at least two ways. If the investigation into the accident eventually locates the driver responsible, the family can go ahead with a wrongful death claim against the driver and his or her insurance coverage. The driver will also be facing criminal charges at this time, but the family's claim for damages can proceed separately, regardless.
If the driver is never caught relatives will remain heartbroken, but they may still be able to get financial help to secure the future of the family. A claim can be filed on the deceased's own auto insurance policy. The coverage that protects policyholders from uninsured drivers can also provide compensation to the family when a hit-and-run driver can't be identified. Be aware that even though this is the family's own insurance company, agents can still treat you like the enemy. They may offer a low ball award that doesn't fully cover all of the family's hardships now and in the future.
Contact a Louisville Pedestrian Accident Attorney
Talk to a Louisville Pedestrian Accident Attorney you can trust to protect your family and fight for the compensation they'll need to continue on with their lives. The attorneys at Kaufman &  Stigger, PLLC, have that knowledge and a combined 100 years' experience in helping clients get the compensation they'll need to make a full recovery. To discuss your case, contact Kaufman & Stigger, PLLC today, by clicking here to contact them online.