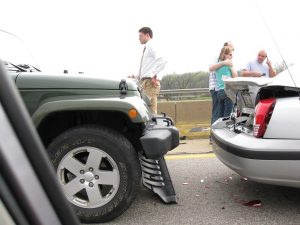 Louisville has its share of fast-moving interstates carrying traffic from one corner of the city to the other. Traffic gets very dangerous when drivers aren't paying attention to the lanes and to traffic signs like they should.
Drivers and passengers face particular dangers when a confused motorist gets on an interstate traveling in the wrong direction. The impacts can be that much more powerful when head-on collisions occur. The wrong-way drivers, in their confusion, may also fail to hit the brakes and travel full speed into a crash, making the consequences that much more devastating.
A Weekend Wrong-Way Crash in Louisville Claims One Life
One person was tragically killed and three people were sent to the hospital after a pickup truck drove in the wrong direction down an interstate Sunday afternoon. WAVE-TV reports the accident occurred around 2:30 p.m. on I-65 near the Watterson Expressway interchange on August 28, 2022.
Louisville Metro Police report that witnesses say a pickup truck was driving north in the southbound lanes of I-65 when it crashed into several cars. The pickup caught fire in the aftermath.
One person in a car was killed in the impact. Three other victims were taken to University Hospital with injuries that weren't considered life-threatening.
Louisville Metro Police Officers continue their investigation into the circumstances surrounding the collisions. They do expect to file charges against the wrong-way driver.
Finding Assistance for Victims and Their Families After a Louisville Interstate Accident
Families suddenly left to mourn the loss of a loved one should be left alone to cope with their grief. Sadly, close relatives can also quickly be expected to make payments on expensive funeral costs and emergency response fees. A wrongful death claim filed against an at-fault driver's insurance provider can ask for reimbursement on these bills. This claim would also seek protection for the family in the future when they'll be without the wages a deceased loved one would have provided in the years to come.
Surviving victims may find their injuries are worse than they first thought. They may soon face enormous medical bills and lose valuable time at work. They are encouraged to seek financial support for these losses through an injury insurance claim. Victims or their family members may file a claim for damages against the auto insurance provider for an at-fault driver.
This claim requests full coverage for medical costs and the lost income a victim may endure during the healing process. It also seeks compensation for physical pain and emotional trauma victims must endure in a collision and during recovery.
Contact a Louisville Interstate Car Accident Lawyer
The attorneys at Kaufman & Stigger, PLLC, have an extensive background in protecting the rights of accident victims and their families in Louisville and earning them the support they need in recovery. To discuss your case in a free case evaluation session contact Kaufman & Stigger, PLLC today.
Talk to a Louisville Car Accident Lawyer you can trust to be on your family's side and fight for your fair compensation. To discuss your case in a free consultation with a real Kentucky lawyer, contact Kaufman & Stigger, PLLC today, by clicking here.
If you decide we can help you get more out of your Lexington car accident injury claim, you won't need any upfront money. Our attorneys don't get paid unless we win your case for you.