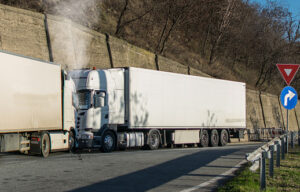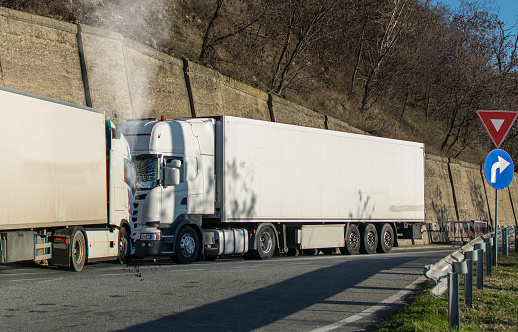 Kentucky is a crossroads for several major interstates and those lanes carry an amazing amount of traffic. The hazards of dealing with so many other drivers each day can, understandably, weigh on the minds of local motorists. Those worries are only magnified when big rigs, semi trucks, delivery vans and tankers join the stream of traffic. It's not uncommon to see these giant, heavy vehicles filling their lanes and part of your lane on any given trip. You can feel squeezed out and at risk of a collision when these large vehicles get rolling. The fear of a potential accident is even worse when trucks merge onto city streets in Louisville or Lexington or along narrow, two-lane highways through rural Kentucky. When accidents occur, one of the first questions to cross your mind might be "who's responsible?" Can the truck driver be held accountable? Does the truck driver's employer have a duty to help you with recovery costs? It's critical that you get answers to these questions after a crash with a truck so that you don't end up paying out of pocket for an accident that wasn't your fault.
Take Advantage of a Free Consultation with a Kentucky Lawyer
These questions and others will come up as you or a loved one try to recover from the damaging consequences of a truck collision. Rather than wasting strength worrying over how you're going to pay for hospital care, talk with a real Kentucky Lawyer. The truck accident attorneys with Kaufman & Stigger, PLLC, offer a
free, no-obligation case consultation
to all victims and their families. It's a chance to go over the benefits available after a car accident. You can also go over just how many liable parties, like a truck driver, and a trucking company, should be rushing in to provide support for your recovery.
Truck Accident Dangers Across Kentucky
Transport trucks fuel our busy lives by shipping in a variety of goods we need to keep our families up and running. They supply our stores with vital supplies and the favorite products we shop for. It's a supply chain that uses major thoroughfares like Interstates 64 and 65 and the Western Kentucky Parkway to get their payloads where they need to be. Unfortunately, the weight and size of these motor vehicles make them a much bigger threat to motorists when collisions occur. The odds of victims suffering a major injury increases dramatically. There are also the added dangers that truck drivers themselves create. Kentucky truck drivers can be distracted by their phones, be drowsy, or just incredibly reckless while behind the wheel. A driver in any car can be careless, but truck drivers have a much harder time correcting their mistakes. It's very difficult to regain control of a fully loaded 80,000lb truck after it veers into another lane or off the road. Braking to a full stop requires much more distance and a Kentucky truck accident can easily occur after a driver misses seeing a green light turn red.
Kentucky Truck Accident Statistics
The Kentucky State Patrol (KSP) handles thousands of accidents involving trucks each year. They calculate the resulting statistics and send them out in a yearly
report
. The KSP defines a truck accident as involving a vehicle weighing 10,000 lbs. or more. In 2020, they recorded 8,703 truck-related vehicle accidents on Kentucky roads. Those accidents left 1,315 victims injured and led to the deaths of a tragic 106 people. What's more, the KSP found that 19% of truck collisions occurred on county or city streets, 29% on interstates, and 47% on U.S. and state-numbered routes.
What To Do After a Kentucky Truck Accident
After an accident caused by a truck driver, smaller vehicles can be knocked in any direction and even end up under a tractor-trailer in the worst cases. Once you've been hit, see to your safety and the safety of those around you. Check on your passengers. Call 911. Let paramedics check out every pain you have. Alert the investigating officer to everything you remember in the moments before your truck accident. The officer will be writing up a collision report that can be a major determining factor for who is assigned blame.
If you are still physically able, it's a good time to start collecting evidence on the scene that won't be available once you leave.
Take photos with your phone. Take pictures of the damage to all vehicles involved and where your vehicle ended up in relation to the truck. Show license plates. Get photos of the truck's tires in case their condition needs to be called into question. Capture images of the black marks on the road showing the path the truck took. Show traffic signs. Show any signs or logos indicating the company that employs the driver.
Find out what witnesses observed. Get their contact information.
Exchange information with other drivers. Get the truck driver's employee number if possible. Take photos of a truck driver's license and commercial insurance card.
Get contact information from witnesses on the scene.
Scan the area for any security cameras mounted to nearby businesses or homes. Note their addresses.
Don't say you are okay or admit fault in the accident. You may be wrong on both counts right after an accident. These statements can be used against you later. An insurance representative for the truck driver will call you in the days after a collision. They'll want you to give a recorded statement about what happened. Politely decline and refer them to your Kentucky Truck Accident Lawyer.
See Your Doctor. Get a check-up on all injuries from the accidents and any new pain that arises the day after your collision. Save all medical invoices.
Your Kentucky personal injury attorney will be conducting a full accident investigation on your behalf. That will include requesting the trucker's logbooks that document their trips and the breaks they take. The truck's electronic data recorder may also hold valuable evidence to prove your innocence in an accident.
Who Can I Sue After a Kentucky Truck Accident?
Making sure every party that is liable for your accident and injuries are included in insurance claims is a top priority. A driver's commercial insurance may have a very low cap on the benefits it will pay you. This may leave you cleaning out your savings to pay your remaining hospital bills. Your Kentucky personal injury law firm will investigate your case thoroughly to identify every party that should be held accountable for what you've been through.
These are just a few of the parties that should be providing you with injury support:
Independent Driver
You can be struck by a driver who works for themselves. Truck drivers are required to carry commercial truck insurance coverage. The limits on these policies can be low and leave you without full coverage for your damages.
Trucking Company
Trucking businesses can be local or part of a nationwide corporation. This can include companies like Amazon that hire some of their own drivers and also contract deliveries out to smaller companies. The largest businesses will usually have higher insurance policy limits for victims to draw from, but they'll also make it harder for injured victims to earn compensation. Corporations can have teams of lawyers and if you don't have your own Kentucky truck accident attorney watching out for your interests, you can get robbed of fair support.
Maintenance Issues
Sometimes companies skip maintenance and upkeep on trucks, which puts them at risk of a breakdown or malfunction. Tires and other parts may not have been replaced regularly. Bald tires could have contributed to a driver losing control in rain or snow. The trucking company might be liable for any accidents resulting from maintenance negligence.
Agricultural Company
Kentucky farmers grow important crops and raise a lot of livestock. Local agricultural companies send out large produce and livestock trucks onto Kentucky highways. Farming equipment is also a common sight on rural roads. These local farms carry insurance for when their drivers or farmhands cause accidents.
Truck Maker
The big rig manufacturer could owe you support during recovery if a defect on the truck caused your accident. Your attorney would also check for recalls involving any vehicle involved.
What Kinds of Damages Can I Earn Compensation for After a Kentucky Truck Accident?
As you file your insurance claim against a truck driver's insurance and/or a trucking company's policy, you'll need to include every hardship you've faced. Any damage not included in your claim won't earn compensation in an insurance settlement check. Your Kentucky truck accident lawyer will ensure your claim includes every economic and non-economic hardship you've suffered. A skilled attorney will also include some factors you may not have known could earn financial support.
The cost of your medical care already billed and the cost of any care anticipated in the future.
All costs associated with a long-term injury or permanent disability or disfigurement.
The physical pain you suffer through in recovery.
The emotional trauma experienced in the accident and in recovery. This can include a loss of enjoyment of life as you are unable to participate in hobbies and family activities.
Your lost wages while recovery causes you to miss time at work.
Travel costs associated with your care. Seeing out-of-state specialists and the expense of shuttle transportation while you must stay off your feet and can't drive.
Property damage.
Other Frequently Asked Questions
What is Kentucky's statute of limitations on filing a truck accident injury claim?
One year. Kentucky gives victims and their families one year from the date of the accident to file a truck injury claim with the at-fault driver's insurance provider. They usually reject your case if you wait beyond this date.
Can my family earn insurance support if a family member dies in a truck accident?
Yes. The personal representative for the deceased's estate, often a family member, can file a wrongful death lawsuit against a liable party. The civil claim would seek help with burial costs and help support the family after the victim's income is no longer available.
Do I need a truck accident lawyer after a collision?
In most cases, yes. If you have a serious injury, insurance companies will work as hard as possible to limit the compensation you receive. Your attorney works to make sure you don't pay a single hospital bill and that you receive reimbursement for lost time at work.
Contact a Truck Accident Lawyer Serving Kentucky Victims
The lawyers at
Kaufman & Stigger, PLLC
, have a thorough understanding of the laws that trucking companies and their drivers must comply with in Kentucky. This is a distinct advantage when investigating and filing truck accident claims.
Contact us
to arrange for a free consultation and case evaluation if you or a loved one were the victims of a truck driver's negligence. We'll listen to you carefully and answer all of your questions. Then we'll go over your legal options with you. You don't need to pay a single penny in advance to put us to work on your case. If we enter into a retainer agreement to represent you, we charge no legal fees unless we obtain a settlement or verdict on your behalf.