Motorcyclists are often able to enjoy the journey along Kentucky streets, country roads, and highways better than any other motorist. They cruise in the open air and they get a much better feel for the road and the scenery on their bikes. Unfortunately, that joy of the ride can place a rider in harm's way more often than anyone else on the road.
Even the smallest collision can be devastating for a motorcyclist. That's why the attorneys with Kentucky's Kaufman & Stigger Injury Lawyers are committed to protecting injured riders who may be victimized by insurance companies after an accident.  We want to represent motorcyclists and get them the compensation they'll need to recover and eventually return to their bikes.
Nationwide Motorcycle Accident Statistics
In the latest numbers from the National Highway Traffic Safety Administration (NHTSA), almost 5,000 motorcyclists were killed in accidents across the nation in 2018. That's slightly down from the numbers in 2017.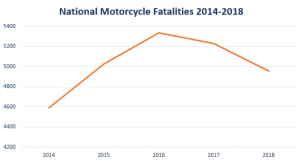 In perhaps the most telling statistic of all, The NHTSA found that the fatality rate for motorcyclists in crashes was six times the fatality rate for car occupants.
Ages Involved in Fatal Motorcycle Fatal Accidents
The NHTSA also tracked the age of the riders killed in accidents. Every year riders over 40 make up around half of the victims in these tragic cases.
There are more people over 40 that ride and they are likely more experienced on a bike, but the numbers are still too high to take lightly.  These are the tragic numbers for the different age groups in 2017.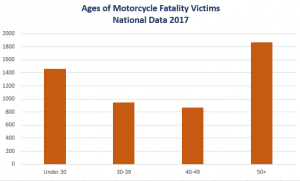 Ages of Motorcycle Fatality Victims
Under 30 riders accounted for 1,462 deaths or 28% of motorcycle fatalities.
30-39 age group accounted for 950 deaths or 18%.
40-49 age group accounted for 868 fatalities or 17%.
50+ riders accounted for 1,868 deaths or 36%.
Dangerous Times of Day for Motorcycle Accidents
A ride in the night air can be an amazing experience, but motorcycles are still at high risk from the other motorists after sundown.  For some reason, even when a bike is fully lit, drivers still claim they can't spot someone on a motorcycle. Accidents after dark lead to countless serious incidents for riders. National numbers show that 38% of all motorcycle accidents happen at night, 4% at dusk, and 1% at dawn.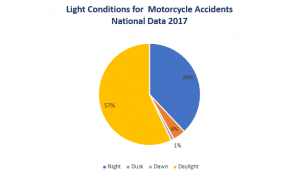 The Insurance Information Institute broke down the most dangerous times of day and night for motorcyclists into segments.  They found that from 6 pm-Midnight is when almost a third of all motorcycle accidents happen. The deadly nighttime period sees even more accidents on the weekend, especially on Saturday nights.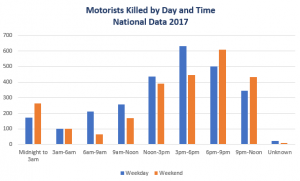 City and Country Threats to Motorcyclists
The increased traffic in cities also presents a clear hazard for riders. A full 60% of motorcycle accidents across the U.S. happen in urban locations, 40% in rural settings. The numbers were close to identical for Kentucky streets and backroads as well.
Kentucky Motorcycle Accident Statistics
Kentucky commonly ranks in the top ten of dangerous states for motorcyclists. RideApart looked at fatal motorcycle accident figures and compared them with the number of registered motorcycles each state reported. By that criteria,  Kentucky ranked 8th in the nation with 8.9 deaths per 10,000 registered bikes.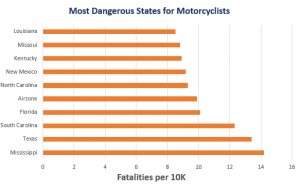 The Kentucky State Police see the dangers firsthand when they respond to motorcycle accidents throughout the year. In their 2018 accident report, they documented 1,464 Motorcycle collisions on local roads.  88 people in Kentucky lost their lives in motorcycle crashes and 933 people suffered an injury. Motorcycles were involved in 1% of all collisions in the state in 2018 but represented 7% of all vehicles in fatal accidents.
Motorcycle Deaths and Impairment
Driving under the influence was a nationwide problem no matter what vehicle was involved. The Governor's Highway Safety Association detailed the problem as it affected motorcyclists.  In a single year of accidents involving motorcycles, 28% of the victims were shown to be alcohol-impaired (BAC of .08 or higher).
In Kentucky, motorcycle collisions involving alcohol in reached 71 cases in 2018. 10 of those accidents led to a fatality. Drug use was found to be a factor in 25 motorcycle accidents leading to 7 deaths.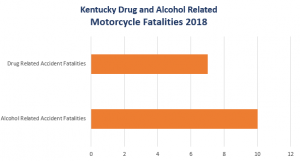 Helmet Laws in Kentucky
The NHTSA estimates that motorcycle helmets saved an estimated 1,872 lives across the nation in 2017. If all motorcyclists had worn helmets, they calculate that an additional 749 lives could have been saved.
Helmets can definitely help reduce the severity of accidents, but Kentucky doesn't require all riders wear them.  State law requires riders to wear a helmet if they are under 21 years old, only have a permit, and/or have had their operator's license for less than a year.
Even if riders are not required to wear a helmet, it is always safer to wear one. These statistics, also from the Kentucky State Police, illustrate the importance of wearing protection.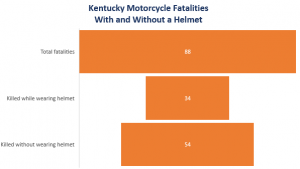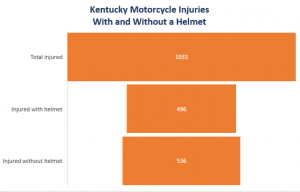 Contact a Kentucky Motorcycle Accident Lawyer
If you do find yourself the victim of an accident caused by a careless driver don't go through your recovery alone.  Talk to a local motorcycle accident attorney for a free consultation on your best options for getting compensation for your injuries and your emotional and financial losses. We want to protect any riders who face hardships after an accident. The goal is to get your life back to normal and get you back on your motorcycle again.
The attorneys at Kaufman &  Stigger, PLLC, have the legal knowledge and a combined 100 years' experience in helping clients get the compensation they'll need to make a full recovery. To discuss your case, contact Kaufman & Stigger, PLLC today, by clicking here to contact them online.