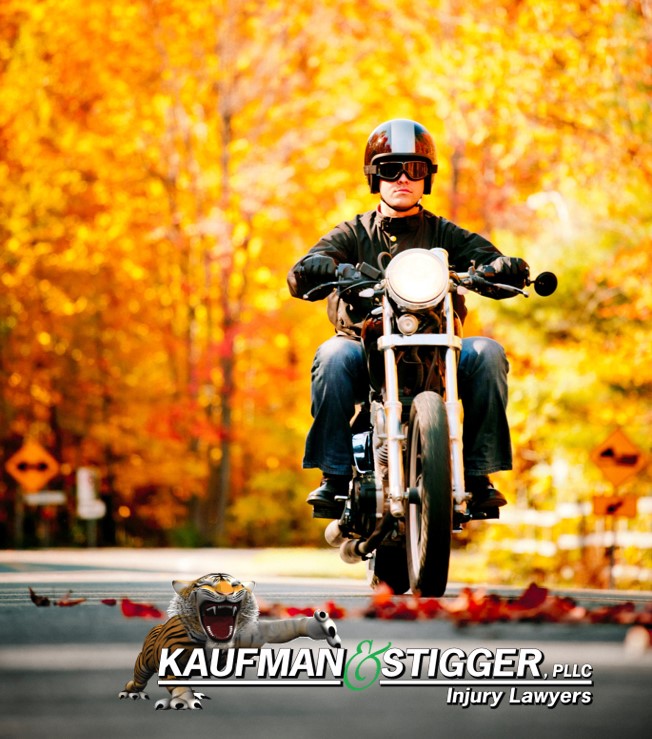 While motorcycles offer an exhilarating experience for riders throughout Kentucky, accidents can be a difficult experience for victims and their loved ones.  As motorcyclists are often more vulnerable on the road than other drivers, it's crucial to understand the statistics behind these accidents and take steps to prevent them.
In looking at motorcycle accident statistics in Kentucky, it's easy to see how devastating they can be. Whether you're a motorcyclist or someone who shares the road with them, it's important to be aware of the risks and take steps to stay safe.
Kentucky Motorcycle Accident Statistics
Motorcycle accidents are a serious issue that affects countless people across the country. While these accidents can occur anywhere, they are common throughout Kentucky. Despite its relatively low population, Kentucky is a popular activity for many Kentuckians and those traveling through the state. The Kentucky Transportation Center (KTC) tracks not only accidents throughout Kentucky, but a variety of other transportation-related data. In its 2021 report, the KTC found that there were:
83,926 motorcycles registered in the state
While popular, motorcycle riding also provides many opportunities for accidents. Data from the KTC found that, out of the 196,738 accidents statewide in 2021, motorcycles accounted for the following:
1,526 total accidents
78% of total accidents
96 fatal accidents
46% of fatal accidents
Because motorcycle accidents are at once so prevalent and dangerous, the KTC used its resources to further track them. In this data, they found the following statistics:
1,491 motorcycle accidents
942 caused injury
93 were fatal
Interestingly, the data further uncovered that injuries were nearly the same where a helmet was used and where a helmet was not used. Not surprisingly, injuries from motorcycle accidents were slightly higher when the rider was not wearing a helmet:
481 with a helmet
553 without a helmet
The last section of KTC data on motorcycle accidents looked at the various contributing factors that were related to them. The leading contributing factors to Kentucky motorcycle accidents included:
Inattention – 421 accidents
Not under proper control – 386 accidents
Failure to yield the right of way – 175 accidents
Taken together three factors contributed to over 65% of the total number of motorcycle accidents in Kentucky in 2021.
Nationwide statistics
Not only are motorcycle accidents a serious issue within Kentucky, but they are also an ongoing problem nationwide. There are a wealth of resources that work to compile data on the country's motorcycle accidents, two of the most prominent being the:
According to NSC data, over 60% (3,354) of motorcycle accidents in 2020 occurred in urban areas, while another 51.3% (2,886) involved another vehicle. The NSC further found that between 2007 and 2020:
Miles driven by motorcycles have decreased by 18%
The number of registered motorcycles has decreased by 5%
Similarly, the NHTSA found that in 2020, there were:
5,579 motorcycle accident fatalities
The agency also found that of these fatalities, 36% were riding without a valid motorcycle license.
While this data is significant in relation to the danger of riding a motorcycle, it's important to remember that these statistics are only a general representation and that specific factors, such as location and driving behavior, can greatly impact the risk of being involved in a motorcycle accident.
Common Injuries in Kentucky Motorcycle Accidents
As the above data shows, riding a motorcycle can be a very risky proposition. Not only that but there are a variety of factors that can contribute to these accidents, most of which are often serious. By far the most common result of these accidents, Kentucky included, are the injuries they cause. These include:
Traumatic Brain Injuries (TBI) – TBIs are one of the most serious injuries that can result from a motorcycle accident. Even riders wearing helmets can suffer from TBIs due to the force of the impact.
Spinal Cord Injuries – Spinal cord injuries can result in paralysis or limited mobility. These injuries can be devastating and can require long-term medical care and rehabilitation.
Fractures and Broken Bones – Motorcyclists often suffer from fractures and broken bones in accidents. These injuries can be painful and require extended recovery periods.
Road Rash – Road rash is a type of injury that occurs when a rider's skin comes into contact with the pavement during a crash. Road rash can be severe and may require skin grafts to treat.
Internal Injuries – Internal injuries, such as internal bleeding or organ damage, can occur in motorcycle accidents. These injuries can be difficult to diagnose and may require surgery to treat.
Amputations – In some cases, a motorcycle accident can result in the amputation of a limb. This can be a life-changing injury that requires significant medical care and rehabilitation.
As a motorcyclist, it's vital to always wear proper protective gear, including helmets and protective clothing, to reduce the risk of injury. Additionally, seeking prompt medical attention after an accident can help to diagnose and treat injuries before they become more severe.
Once you're able to receive medical attention, Kentucky law allows you to pursue damages–if there was another driver at-fault for the accident. With the assistance of experienced Kentucky motorcycle accident lawyers, you can file a claim against the at-fault driver's insurance company or even a lawsuit. If your claim is successful, you can potentially recover:
Medical expenses
Lost wages
Property damage
Emotional distress
Pain and suffering
Dedicated Kentucky Motorcycle Accident Lawyers
At Kaufman & Stigger, PLLC, we understand the thrill that comes with riding your motorcycle in Kentucky. However, we're also aware of the damage that an accident can cause you and your loved ones. If you've been injured in a motorcycle accident, our team of dedicated Kentucky motorcycle accident lawyers can make sure you get the compensation you need to aid your recovery. Don't hesitate to contact us for a free, no-obligation consultation to learn more about our legal services.