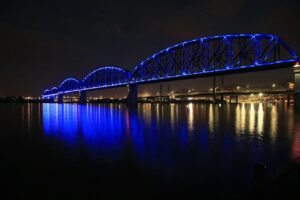 Pedestrians in Louisville have a hard enough time avoiding the careless moves of distracted and careless drivers. They must also worry about motorists who are intentionally breaking the law by racing away from police officers on narrow downtown streets.
A police chase can be very dangerous for pedestrians anywhere near the scene. Suspects focused on fleeing from authorities may put their own freedom before the safety of pedestrians and leave someone injured and in need of immediate care.
Woman Struck by a Hit-And-Run Driver in Louisville
A woman was hit by a driver who was fleeing a police stop Friday night in downtown Louisville. WAVE-TV reports the accident occurred around 10:30 p.m. at Third Street and Main Street on July 11, 2022.
Louisville Metro Police report their officers were performing a traffic stop at Second and Market Streets when the driver took off. The suspect then is said to have gone through two red lights eventually striking a female pedestrian. Officers provided aid to the woman. She was then rushed to the University of Louisville Hospital. She is expected to recover.
At last word, the LMPD had not released a vehicle description or a driver description for the hit-and-run suspect.
Finding Help for Louisville Hit-And-Run Pedestrian Accident Victims
Pedestrian victims can find themselves in the hospital with serious injuries and have to accept the news that the driver responsible hasn't been found. This tragic news can bring added stress to victims and their families as they must consider who will pay for enormous medical costs.
When guilty drivers avoid identification, victims may be required to call upon their own auto insurance policies to get financial support while they recover. Their own uninsured motorist coverage may provide money for hospital bills and be able to replace the lost wages suffered while victims are out of work.
If a hit-and-run driver is arrested, a claim for damages can be filed by the victim or his or her family against the driver's auto insurance provider. The hit-and-run driver may face a criminal trial, but the victim's civil claim could move forward separately so the patient could be compensated for recovery costs.
Contact a Louisville Pedestrian Accident Lawyer
Unfortunately, pedestrian victims must often confront their own car insurance company or the driver's company to demand basic support after an accident. Unhelpful insurance providers have a long list of tactics they use on victims to try to limit the support they have to offer. Allow a Louisville Pedestrian Accident Attorney to protect you from these unfair practices.
If the mistake of a careless driver hurt you or a loved one, contact Kaufman & Stigger, PLLC, today for a free and confidential consultation. Our attorneys allow victims the time they require to heal, while we work to secure the support needed to prevent them from struggling financially now and in the future.