You always have to be aware when you're behind the wheel in Kentucky, even if you're in places you go everyday. Unfortunately, even if you do that, accidents can still happen. Then, there's the added circumstances if the other vehicle involved in the accident is a truck.
According to a story from LEX18, a 20-year-old woman was killed when her vehicle was struck by a truck on US-62 near Cynthiana in Harrison County. The Harrison County Sheriff's Department responded to the accident, which happened around 6:30 p.m. on Saturday, November 11, 2023.
According to investigators, the woman pulled out from a stop sign at Newtown Leesburg Road and into the path of the truck, which did not stop in time and collided with her vehicle. The woman was pronounced dead at the scene, while her 8-9 month old child survived the crash.
The driver of the truck was unhurt, and was not charged by police.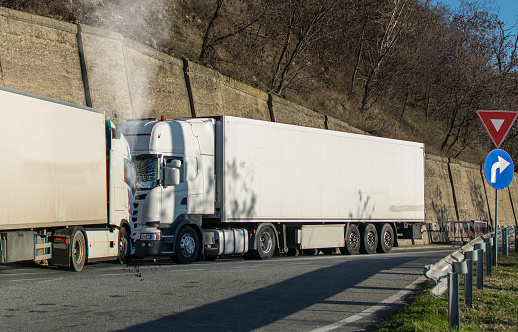 Who is Liable in Kentucky Truck Accidents?
Determining liability in a box truck accident presents challenges due to the involvement of multiple potential parties. The trucking company, as the employer of the box truck driver, may be held responsible for both the driver's actions and the safety of the owned box trucks.
Apart from the driver and company, several other entities could share liability in a truck accident, including:
Manufacturer – Responsible for the truck and its components.
Service vendors – Providing services to the trucking company.
Cargo owner – The owner of the cargo transported in the truck.
Cargo loader – The person responsible for loading the cargo into the truck.
Maintenance personnel – Those in charge of maintaining the truck, facing liability for negligence.
Driver of the other vehicle – If another vehicle is involved in the accident.
Local government or contractors – Responsible for road design or maintenance.
Several things play a role in figuring out who's responsible for a Kentucky truck accident, not just mistakes or carelessness. Here are some factors:
Driver error – This is a common factor and includes actions such as speeding, distracted driving, impaired driving, or failing to follow traffic rules.
Vehicle defects – If there are issues with the truck itself, such as faulty brakes or other mechanical failures, the responsibility might lie with the manufacturer or maintenance crew.
Company policies – Trucking companies have a responsibility to ensure their drivers are well-trained and adhere to safety regulations. If the company neglects these responsibilities, they could be held liable.
Cargo issues – Improperly loaded or secured cargo can lead to accidents. If the cargo was not loaded correctly, the responsibility may fall on the party responsible for loading it.
Road conditions – Sometimes, accidents occur due to poor road conditions. In such cases, responsibility might be shared with the entity responsible for road maintenance.
Understanding and looking into these things is really important to figure out who is responsible for a truck accident. To that end, our team of Kentucky truck accident lawyers can help you figure out all the liable parties and then file a claim for damages.
Contact Kaufman & Stigger After a Kentucky Truck Accident
After a truck accident, make sure to get immediate medical attention to address any injuries and swap information with the truck driver. With our health and safety secured, our team can help with tasks like filing an injury claim with your insurance, submitting a claim to the at-fault party's insurance, or pursuing a personal injury lawsuit. Truck accidents affect not only victims but their families too. If you've been injured in a Kentucky truck accident, contact Kaufman & Stigger, PLLC for a free consultation today.