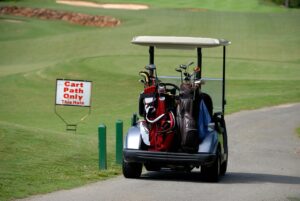 Kaufman & Stigger, PLLC, represents Kentucky residents seriously hurt in golf carts and low-speed vehicle collisions. Our Kentucky lawyers strongly protect victims and allow them to focus on recovery while we handle frustrating battles with insurance companies. Those insurance companies may represent careless drivers in cars or in other golf carts that cause impacts. An accident could also be the responsibility of a resort or a golf community.
Contact
a Kentucky golf cart accident lawyer to find out every party that may have to provide you with recovery compensation.
What Is Considered a Golf Cart In Kentucky?
Generally, golf carts are allowed only on streets in Kentucky golf communities and on marked paths crossing public streets. But Kentucky also allows local governments to decide to open up other streets to golf carts that have a speed limit of 35 mph or less. But to use public roads, carts will need additional upgrades to make them a bit safer when traveling in traffic. Kentucky statutes
define
golf carts and low-speed vehicles (LSVs) as vehicles that travel 35 mph or slower. They can't carry a gross weight of over 2,500 lbs. Most golf carts are designed to go no more than 15 mph and carry much fewer safety features, so they usually aren't allowed on the open road. But LSVs usually travel at higher speeds and can carry more. LSVs come street legal. That means they have some of the safety devices that a car would including seatbelts, headlights, taillights, and turn signals. They'll also need a license plate and registration. A golf cart with these modifications or an LSV is allowed on public streets with speed limits of 35 mph or under. Local governments in Kentucky cities can designate other roads for golf cart/LSV use.  But, for instance, WKYT-TV
reports
that Lexington hasn't passed any changes to the state law, meaning that no golf carts should be on city streets in the city. If golf cart drivers or LSV drivers will be using public roads they will need:
A driver's license
Vehicle insurance
A sticker issued by the local government allowing the cart to travel local streets
The owners of LSVs also need a tag and title for their vehicles.
Who Is Responsible for a Kentucky Golf Cart Accident?
Golf cart accidents can involve careless motorists in full-sized vehicles. Victims in golf carts, lacking all of the safety devices of a car, can be more easily thrown from carts and be at risk of crush and blunt force trauma. They can suffer broken bones, Traumatic Brain Injuries, and internal damage. But not every golf cart accident involves a careless driver in a full-sized vehicle, like an SUV, there are other ways golf cart drivers and passengers can be hurt. There may be property owners and resort management companies that could be held liable for certain collisions and obstacles. These and other parties may be fully responsible for a victim's injuries and recovery costs:
A motorist in a car, truck, or SUV may fail to monitor for small carts on local roads and make a devastating mistake. Drivers and passengers in golf carts or LSVs can suffer major injuries. A Kentucky golf cart accident lawyer can help all victims hold the at-fault driver's car insurance fully liable.
Other golf cart drivers. A collision between two golf carts or LSVs can also cause serious injuries for all on board. Golf cart drivers can get reckless or be too young to be at the wheel. Drivers might also be under the influence of alcohol. In Kentucky, golf cart drivers can be arrested for DUI. A drunk cart driver could also strike a pedestrian and cause just as serious of an injury.
A golf course. The groundskeepers might leave an obstacle on a course that leads to a golf cart accident and injuries. Maintenance on carts may have been neglected to cause a dangerous loss of control that leads to an accident. The golf resort may give a cart to someone who is intoxicated and could be held responsible for any damage the golfer does.
Golf Cart Manufacturer. A design defect in a cart or an LSV could cause a vehicle to go out of control and hurt someone. A problem with brakes might lead to a dangerous collision.
Compensation Available After a Kentucky Golf Cart Injury
To get the most out of your Kentucky golf cart injury claim, you'll have to secure supporting evidence for every hardship you've endured during recovery. This will include every medical invoice you accumulate during your recovery journey. But there are other factors your Kentucky Golf Cart Accident Lawyer will help you document that can add to your settlement check:
Hospital bills and estimates on expenses for medical care expected in the future.
Support for physical pain. This can include additional compensation for any chronic pain that you develop, including arthritis stemming from an injury.
Emotional trauma endured. You may be dealing with depression or anxiety and just a loss of enjoyment of life after a painful injury. You may have to give up your favorite activities, like golf, for weeks or months. You might also suffer crippling PTSD symptoms after a traumatic accident.
Cart repair or replacement costs.
Wages and benefits you've lost while missing work and may continue to lose in the weeks ahead.
Travel Costs. Any travel you must do as you visit different doctors and therapists in Louisville or Lexington and out of state. This is a real expenditure when you are in a cast or a wheelchair, and unable to drive.
Frequently Asked Questions After Kentucky Golf Cart Accidents
How long can I wait to file a golf cart accident injury claim in Kentucky?
For accidents involving motor vehicles, victims have two years to file an injury claim. This deadline starts from the date of the crash and injury. If you don't file by this deadline, your case will likely be thrown out.
Does car insurance cover Kentucky Golf Cart accidents?
Most car insurance companies don't include golf cart accident coverage in their policies. Owners may sign up for something for recreational vehicle insurance. A business that rents golf carts may provide accident insurance to drivers. But remember, if you own a street-legal LSV, you will need vehicle insurance.
What if I don't have the money to pay a Kentucky golf cart accident lawyer?
You don't have to worry about upfront money when hiring Kaufman & Stigger, PLLC, to represent your case. Our attorneys don't accept payment unless we win your case for you. At that point, our fee is taken out of the settlement money you earn.
Contact a Kentucky Golf Cart Accident Lawyer
Kentucky golf cart and Low-Speed Vehicle accident victims should be able to focus on injury recovery and not the medical bills that have been piling up. A skilled Kentucky golf cart accident lawyer can handle the frustrating negotiations with insurance companies and make sure victims earn the maximum in compensation available.
Contact
Kaufman & Stigger, PLLC today, to talk about your case in a free case consultation session. It's an easy, no-obligation way to find out what your golf cart injuries may be worth and about every party that could be liable for your pain.