Most parents can't even imagine the idea of their child getting hurt, no matter when or where it happens. But if it happens on a school bus, it can be even more distressing. When you put your child on a school bus, you expect them to be safe. However, that's not always possible.
Dedicated Louisville Bus Accident Lawyers Can Help You
At Kaufman & Stigger, PLLC, we have a team of experienced Louisville bus accident lawyers who care and can help if your child gets hurt on a Louisville school bus. We understand how difficult this situation can be, but with our experience and knowledge, we can help you and your child get back to full health. Further, we can explain your legal options and walk you through that process. If your child has been injured in a Louisville school bus accident, contact us today to set up a free consultation.
How Many School Buses Are There in Louisville?
If you spend any amount of time on the road in Louisville, you've undoubtedly encountered a school bus. Typically, these are operated by Jefferson County Public Schools (JCPS), which has over 65,000 students in 145 schools. To that end, JCPS has a fleet of 1,250 school buses to take these students to and from their individual school or other activities.
With so many school buses on the road, it's really no surprise that accidents are so common. School bus accidents, like most other vehicle accidents, usually happen because someone involved was negligent. Depending on the situation, this can be the bus driver's fault, other drivers on the road, or even the people who were responsible for the school bus' maintenance.
Here are some common reasons why school bus accidents happen in Louisville:
Bus drivers speeding or not following traffic rules – Sometimes, bus drivers go too fast or don't obey the traffic laws that are in place.
Bus drivers not paying attention or using drugs or alcohol – Bus drivers should always focus on driving. If they're distracted or under the influence of drugs or alcohol, accidents can happen.
Not paying attention while the bus is moving – People on the bus, like students or the driver, can sometimes get distracted, which is dangerous.
Not considering bad weather or traffic – Bus drivers need to be careful when the weather is bad or when there's a lot of traffic. If they're not, accidents can occur.
Drivers not having the right training or qualifications – Bus drivers should be well-trained and qualified to drive a school bus safely.
Putting too many children on the bus – If there are too many children on the bus, it can become unstable and lead to accidents. Further, it can be difficult for the driver to adequately watch all the children, which can lead to further injury.
Using faulty bus parts or not maintaining the bus properly – If the bus isn't in good shape because of broken parts or poor maintenance, it can be dangerous.
While it's tough to think about, the likelihood that your child will be involved in a Louisville school bus accident may not be as far-fetched as you think. Still, being prepared for an accident can help make the process a bit easier if it ever does happen–especially if your child was injured.
Common School Bus Accident Injuries in Louisville
While a school bus offers your child a great deal of protection in the event of an accident, it doesn't fully prevent injuries from happening if there is a collision or some other type of incident. Furthermore, with a child's still-developing body and mind, being injured in a school bus accident can have even greater effects on them as they grow. While every accident is unique, here is a look at some of the more common injuries that result from Louisville school bus accidents:
Whiplash – Sudden stops or impacts can cause neck injuries, leading to whiplash, which is characterized by neck pain and stiffness.
Head injuries – Children may suffer head injuries, including concussions, if they hit their heads on seats, windows, or other objects inside the bus.
Broken bones – The force of a collision can lead to fractures in children's bones, especially in the arms, legs, and collarbones.
Cuts and bruises – Flying objects or shattered glass can cause cuts and bruises on a child's body.
Back and spinal injuries – Severe accidents can result in back or spinal injuries, which may have long-term consequences.
Internal Injuries – The impact of a crash can cause internal injuries, such as damage to organs, which may not be immediately apparent.
Emotional trauma – Children involved in bus accidents can also experience emotional trauma, which may lead to anxiety, nightmares, or other psychological issues.
Steps to take after a school bus accident
If your child gets hurt in a school bus accident, follow these important steps:
First, make sure your child sees a doctor, even for seemingly minor injuries. This ensures there are no hidden serious problems.
Keep records of your child's medical treatment and any documents related to the accident. Take pictures of the accident scene, get police reports, and collect witness statements.
Most school buses are run by JCPS, which is a government entity. As such, this raises certain legal questions regarding liability and other areas of the law. That's why it's important to contact our team of experienced Louisville bus accident lawyers. We can answer any questions you may have, and explain the legal process to you if your child is hurt.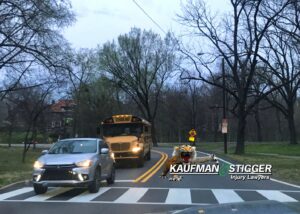 Who is Responsible After a Louisville School Bus Accident?
Although it's a somewhat unique situation, a Louisville school bus accident is ultimately viewed in the same way as any other vehicle accident in Kentucky in terms of the law. Like other vehicle accidents, the key to figuring out who is responsible is determining liability–which involves establishing negligence.
To do this, you would have to show that the person at-fault for the accident:
Failed in their duty to take reasonable care in their involvement with the bus, which directly led to the accident and your child's injuries or other damages.
Once it's established that someone was negligent, the next step is determining who caused the accident. In a school bus accident, this could mean any or some combination of the following are potentially liable:
The bus driver
Another driver or passenger
Jefferson County Public Schools
The bus manufacturer
The City of Louisville or Jefferson County
The manufacturer of a faulty bus part
It's crucial to pinpoint the responsible party because it greatly affects your child's injury claim. Also, in some cases, there might be multiple parties involved, allowing you to file multiple claims for damages. However, this can also mean dealing with several insurance companies.
How Can You File a Claim After Your Child is Injured in a Louisville School Bus Accident?
Legally speaking, filing a claim for your child's injury in a Louisville school bus accident isn't that much different from any other vehicle accident. The main difference, though, is that you could be filing a claim against a government entity, which alters the process slightly. Still, working with our experienced team can give you all the guidance and expertise you and your child need to recover what you're owed under the law.
Whether it's filing an insurance claim or a personal injury lawsuit, we can make sure your child's claim remains strong and that they recover the damages that are available.
Again, since every accident claim is different, there's a wide range of potential damages that could be available. Generally, though, they include things like the following:
The bills for your child's medical treatment.
Costs for your child's rehabilitation and physical therapy.
The physical and emotional pain your child has endured.
How your child's life has changed for the worse.
Expenses linked to your child's disfigurement or permanent injuries.
Filing a claim after a bus accident isn't simple. Alongside managing doctor visits and medical costs, you might need to identify multiple responsible parties. To make this process less stressful, think about reaching out to our team of experienced bus accident lawyers. We have a proven track record in handling these claims and can handle the day-to-day tasks for you.
Contact Our Louisville School Bus Accident Lawyers for a Free Consultation
The safety of children in Louisville should be a top priority for everyone, from parents to teachers, bus drivers, and school officials. However, when someone like a school bus driver, bus owner, maintenance company, or others act negligently, it's your child who suffers.
At Kaufman & Stigger, PLLC, our experienced Louisville bus accident lawyers understand the profound impact an accident can have on your child, and we're committed to helping your family secure the financial support necessary for their child's recovery. Don't wait–if your child has been hurt in a Louisville school bus accident, contact us today for a free consultation.